---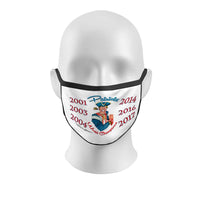 Support and celebrate your favorite football team with this classic art by Frankie Galasso representing the six years of championship for your beloved New England Patriots!

Material: 3 Ply 95% Polyester 5% Cotton.  Washable and Reusable. One Size Fits Most Adults. All Sales Final - No Returns
The mask should not be used in any surgical setting or where significant exposure to liquid, bodily or other hazardous fluids, may be expected;  in a clinical setting where the infection risk level through inhalation exposure is high; or in the presence of a high-intensity heat source or flammable gas. Lil' Rhody Rocks makes no warranties, either express or implied, that the mask prevents infection or the transmission of viruses or diseases.  Washing instructions: Hand washing in cold water is recommended.  If machine washed, use gentle cycle and color water.  For best results, hang dry.