---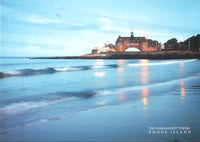 "The true measure of a landmark's beauty is that it must look as stunning from afar as it appears in close proximity."
That's not a real quote, we just made it up.  That doesn't make it any less true in this case though, does it?  Look at these towers!!
By photographer, Stephanie Izzo, this 5x7 postcard captures the beauty of Narragansett beach and its famous towers building.  One of America's best known summer vacation destinations, Narragansett is located in Rhode Island's Washington County, better known as "South County".  The elegant towers (formerly part of the Narragansett Pier Casino) have withstood hurricanes and fires throughout the years, faithfully remaining Narragansett's strongest link to the past for nearly a century.
This postcard was printed in the United States, on responsibly sourced, partially recycled stock, using vegetable based inks & certified wind power.