---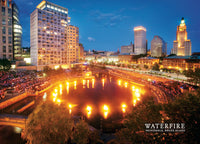 The spectacle of Waterfire is indescribable, and up until this very moment it was impossible to share the experience with any degree of verisimilitude.
Allow us to present:
By photographer, Stephanie Izzo, this 5x7 postcard displays the splendor of Providence city during a Waterfire event.
Since 1994, Barnaby Evans magnificent water fire display has attracted between 10,000 to 100,000 visitors per lighting. The dazzling brilliance of the bonfires on the water, accompanied by the enchanting blend of world and classical music, makes this work of art one of the greatest symbols of Providence's ongoing renaissance.
This postcard was printed in the United States, on responsibly sourced, partially recycled stock, using vegetable based inks & certified wind power.